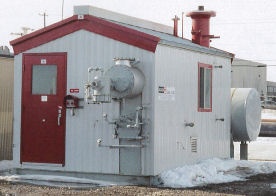 WELCOME TO ALMAC METAL INDUSTRIES LTD.
Almac Metal Industries Ltd. is a leading manufacturer of self framing, rigid-framed and pre-engineered metal buildings. We've been offering quality design, fabrication and distribution services to customers in our home province of Alberta, across Canada, and around the world since 1968.
DEDICATED TO MEETING YOUR NEEDS
At Almac, we do more than create metal buildings. We build long-term relationships based on the expert advice and solutions we offer all of our clients. Contact us today to find out how Almac can meet your needs.
Almac buildings are versatile. They are used as:
Hazardous material storage
We serve clients from many industries, including Oil and Gas. We are also involved in infrastructure projects, such as water treatment facilities.